How to spend
Hiroshima City - Suo Oshima
Venture Business Management Camp
Recommended for
Want to have a management camp away from the hustle and bustle of the city
Want to exchange ideas and opinions freely
Want to deepen friendship with fellow company members
How to spend the 1st day
10:00
Meet at Hiroshima Station and depart for Suo Oshima
12:00
Arrive at Setonoututu Start preparing for the meeting
With the Seto Inland Sea reflected from the car window, we will arrive at Setonoututu, an inn on Suo Oshima.
After putting your luggage in your rooms, let's start preparing for the meeting in the open conference room.
The conference room is equipped with a white board and other equipment necessary for meetings.
12:30
Meeting starts
Meetings start in a conference room overlooking the Seto Inland Sea.
By holding meetings in an unusual space away from the daily work, it is easier to come up with different ideas than usual.
Also, by being away from the usual workplace, the formal atmosphere is removed and more active opinions can be exchanged.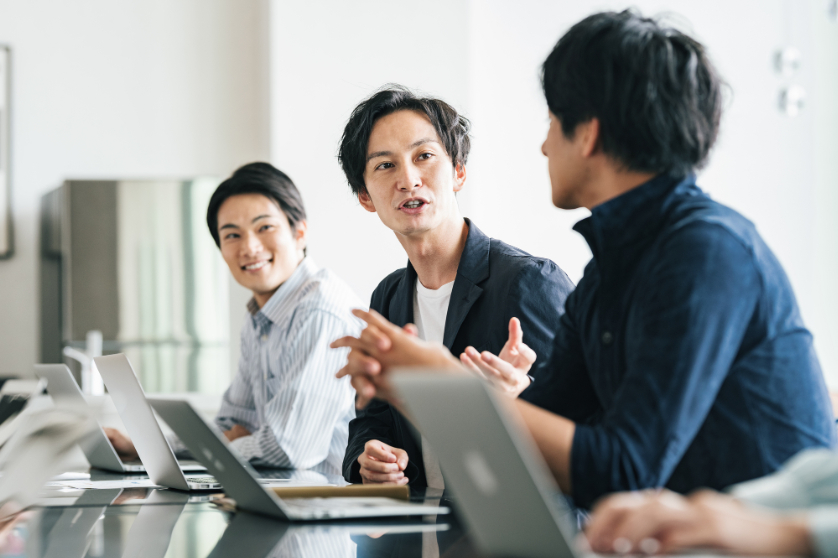 18:00
Dinner with seasonal ingredients
For dinner, Chef Tanaka, owner of "Shikisai Tanaka," a restaurant frequented by major artists in Hiroshima, prepares a variety of dishes using seasonal ingredients produced in Suo Oshima and purchased directly from local farmers and fishermen.
We hope you will enjoy our Japanese cuisine to your heart's content, which allows you to savor the chef's masterful techniques and the richness of Suo Oshima's natural environment.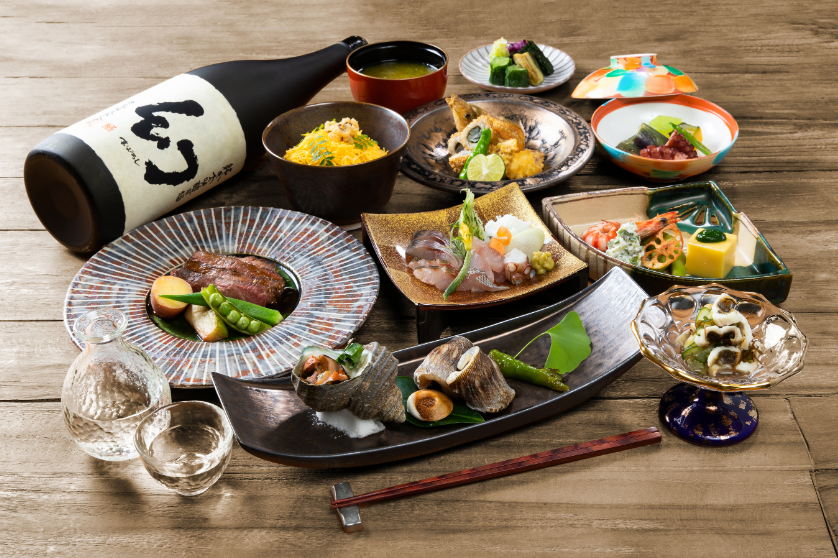 20:00
Sauna and Bathing
Setonoututu is equipped with a barrel sauna that both sauna enthusiasts and beginners can enjoy.
With a spectacular view of the Seto Inland Sea spread out before you in the barrel sauna, you can relax and heal your tired body after a day of active discussion by sweating it out slowly while gazing at the sea.
Forget about work for a moment and enjoy the magnificent ever-changing view for a special time.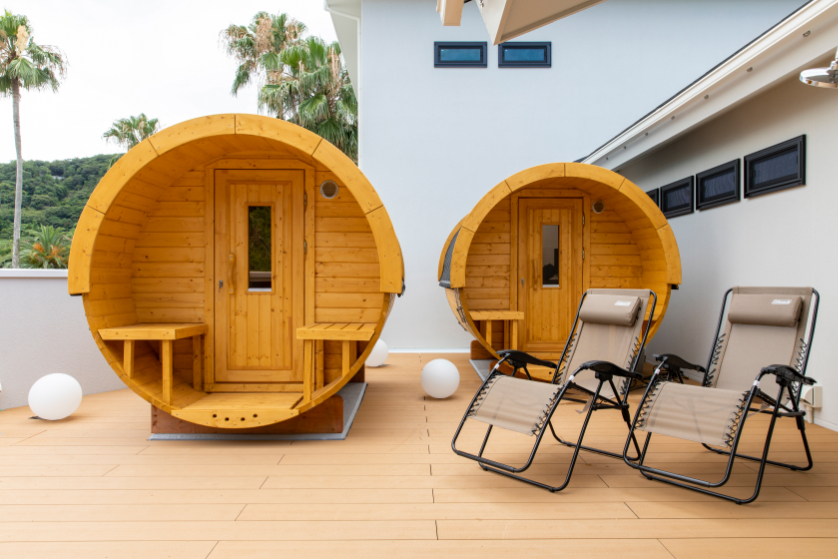 21:00
Enjoy a drink in the lounge with fireplace
At Setonoututu, you can also enjoy a drink in the lounge with a fireplace. In this modern yet warm space, you can enjoy a luxurious time for adults that is different from the usual. Please experience a moment of tranquility while enjoying a drink.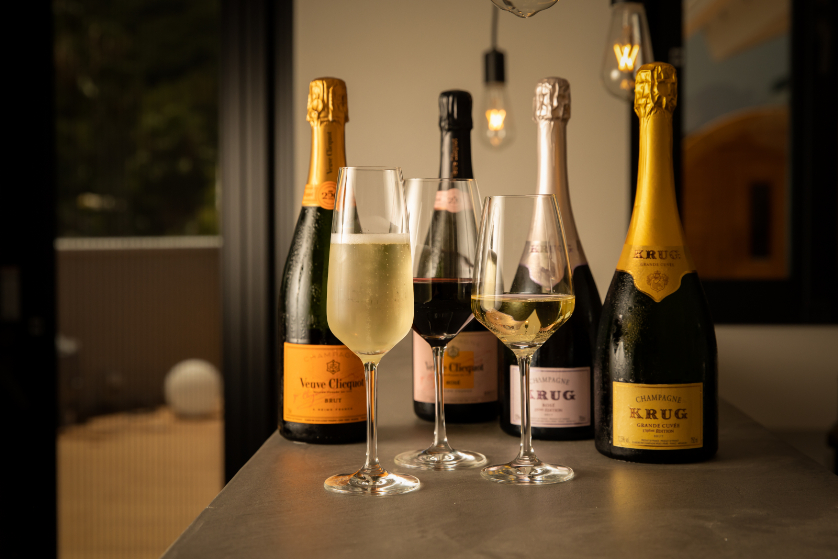 23:00
Bedtime
After enjoying drinks, relax in your room and unwind from the day's work.
The rooms embody "adult relaxation" where you can truly relax and enjoy the time until bedtime.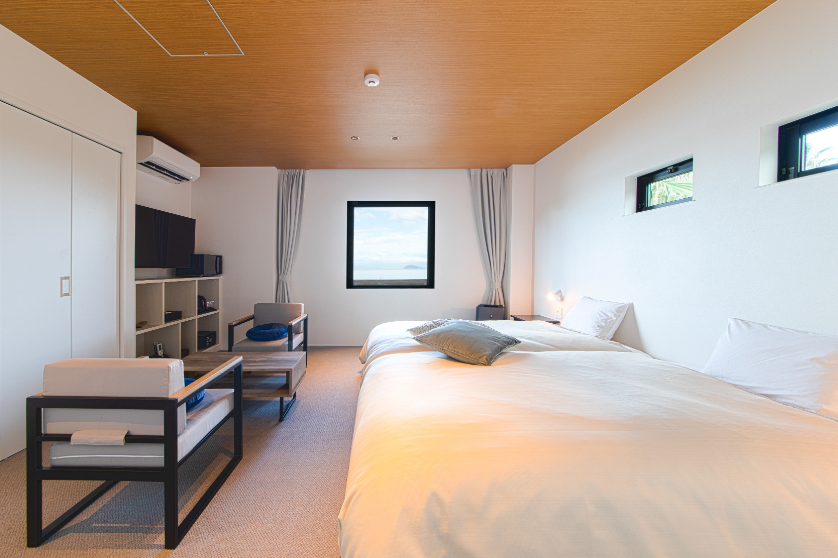 How to spend the second day
07:00
Breakfast
For breakfast, we offer Japanese dishes based on the concept of "delicious grilled fish," "delicious miso soup," and "delicious rice," using mainly ingredients from Yamaguchi Prefecture. We will provide you with a special start to the day with a substantial meal made with locally sourced ingredients.
Enjoy a uniquely luxurious breakfast with a view of the ocean in front of you.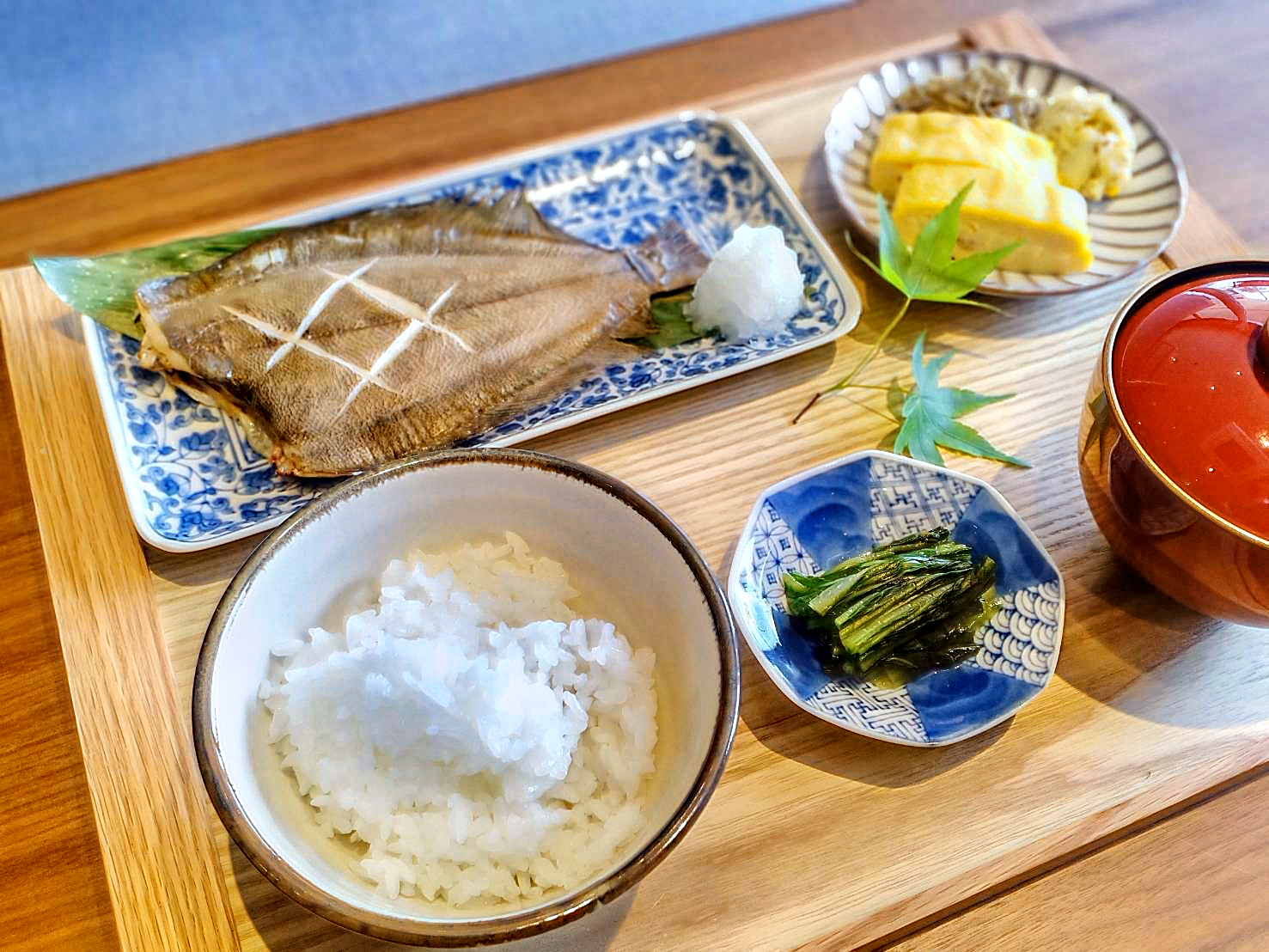 9:00
Meeting starts
We start the second day's meeting with a review of the first day's meeting.
During breaks, we go outside to enjoy the sea breeze and look at the ocean, which helps to refresh and refresh us.
This helps to make the meeting more dynamic than usual.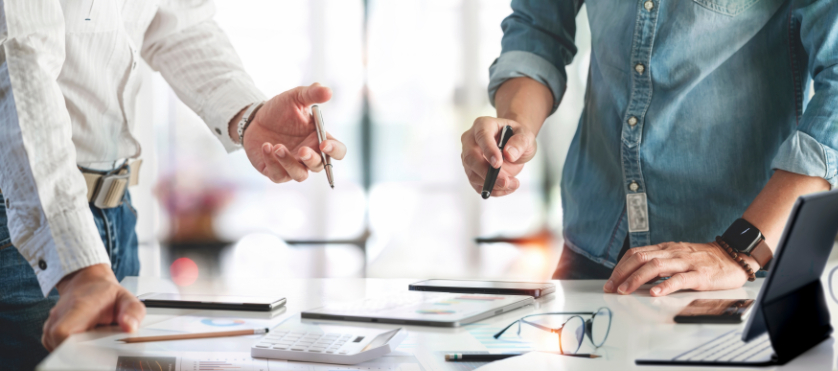 12:00
Check-out
Organize the results of your meeting and check out.
12:30
Lunch at Cafe Restaurant "Yue Yue"
Setonoututu's café-restaurant "Yue Yue" offers Japanese-style meals using a variety of ingredients from Suo Oshima. Enjoy the beautiful view of the Seto Inland Sea as you savor seasonal ingredients and fresh fish from the island's fishermen.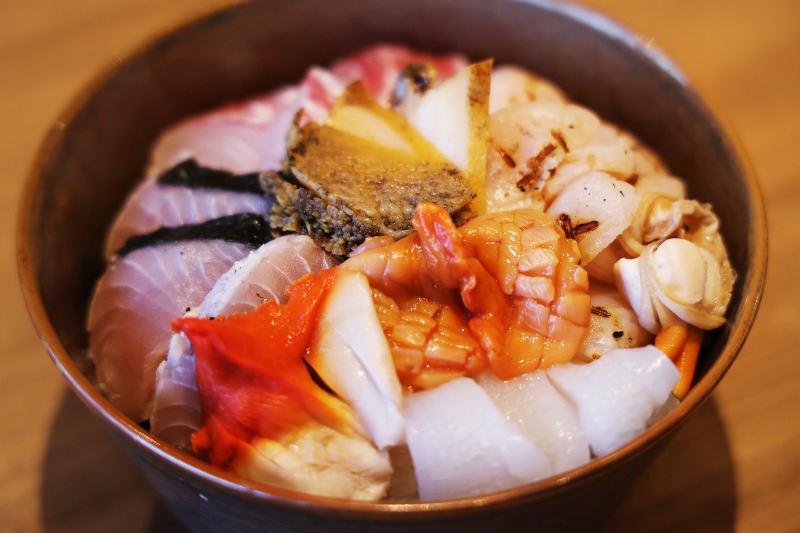 14:00
Heading back home
Return home with memories of your time in Setonoututu and with your colleagues.One of the charms of our hotel in Suo Oshima is that you can enjoy sightseeing after the management camp.On your way home, purchase souvenirs and enjoy exploring Suo Oshima.
Other ways to spend your time